DIRECTION
2018 is going to be a busy year!
Our current production, The Yellow Wallpaper (Det gule tapetet på norsk), is an extremely ambitious combination of modern dance and physical theatre. The play was first performed at Harastølen, an abandoned and condemned tuberculosis asylum on top of a mountain in Luster kommune. Ten sold out performances were well received by press and audience.  We will play again on the 8th of September as part of the Bergen Fringe Festival. The Yellow Wallpaper is an intimate psychological horror centering on the damage caused by ignoring and isolating the vulnerable, and the dangers of uninformed good intentions. The Yellow Wallpaper, originally written by Charlotte Perkins Gilman in 1892, follows the story of a woman suffering from severe postnatal depression, before there was such a diagnosis – when it was just dismissed as female hysteria. The Yellow Wallpaper has never been translated into Norwegian before. The play features an original soundtrack composed by Selma Stang, set, costume and video design by Tormod Lindgren, and lighting design by Marianne Thallaug Wedset.
Jeff continues his role as director of Palmerevyen, Norway's oldest political revue.
Jeff will take his last year as director of Kinnaspelet, one of Norway's oldest and best-loved outdoor dramas. Kinnaspelet is an exciting and action-packed musical set during the Reformation in Norway and performed on one of the most breathtaking outdoor stages in the world. Last chance to see Jeff's interpretation of this beautiful play!
Rolf Losnegård is on tour with our one-man storytelling theatre version of the world's oldest book, Gilgamesh. Keep an eye out for further performances!
Next Autumn Jeff will be directing the world premiere of Nasjonal Prøve with Sogn og Fjordane Teater, written by Maria Tryti Venerød, and in partnership with Firda VGS.
Jeff's third production of 2018 with Sogn og Fjordane Teater is Julekrybba. Julekrybba is a unique retelling of the Nativity, focussing on magic and light, and performed by Reidun Melvær Berge together with talented children from Sogn og Fjordane. Darkness fills the old Norwegian churches where we will perform, until it is split by candlelight and Middle-Eastern musical tones. Jeff first directed Julekrybba for SoFT in 2016.
"…dette var berre så utruleg vakkert, og imponerande på alle måtar. Dei unge dramaspirane frå kulturskulen trollbatt publikum og leverte ei førestilling som stod til topp karakter" – Firda Tidend 2016
"Julekrybba vart levande i Naustdal kyrkje"…"I samarbeid med Sogn og Fjordane Teater leverer elevane eit spel med høg kvalitet, mykje takka vere at dei er tatt på alvor" -Firda 2016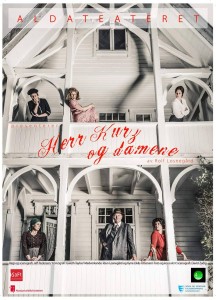 2015's site specific production, Staveneset.Krig, had seven sold out performances and was invited to be part of the Fjaler International Theatre Festival. Staveneset.Krig tells the true story of the telegraph agents who hid in a cave on the coast of Norway, and the young engaged couple, Oddny and Anton, who supported them.  Staveneset.Krig was performed in a cave in Staveneset which was used by the agents.  Seating for 130 was built in the trees at the cave's mouth – the entire audience supported by seven spruce trees.  In addition to the play itself, we hosted a WWII-themed swing dance, a book signing by Arnfinn Haga – author of Nødrop fra Staveneset – and a storytelling event for the elderly.  We also had a visit from the WWII-era warship Hitra, which fired its cannons to start the show. Video of full performance
Jeff has recently directed Herr Kurz og damene for Aldateateret, which has toured Sogn og Fjordane twice in two years to sold out audiences,as well as in Bergen and Sotra. full show
Jeff has worked consistently as a freelance director since arriving in Norway.  He has directed Viva la diva for Åmot Operagard – their most successful production – which was performed for Queen Sonja in 2014.  Jeff has often had the opportunity to work with artists from other fields, with district musicians on tours of Trio på tur, Fart, and Giovanni fra dalen and with the acclaimed design firm Ralston-Bau on their Open House project.  He has directed many outdoor history plays, including Håkonarspelet and Dragseidspelet and is the resident director of Palmerevyen, Norway's oldest political review.  Jeff was the director for the youth musical Fame, which toured Sogn og Fjordane in 2010, performing for a total audience of 14,000 over ten performances.
Jeff also directed performances for Sommarfest 2013 in Førde (featuring Madcon and Big Bang), combining thirty drummers, a team of parkour runners, pyrotechnics, classic lindy hop swing dance, and martial arts.