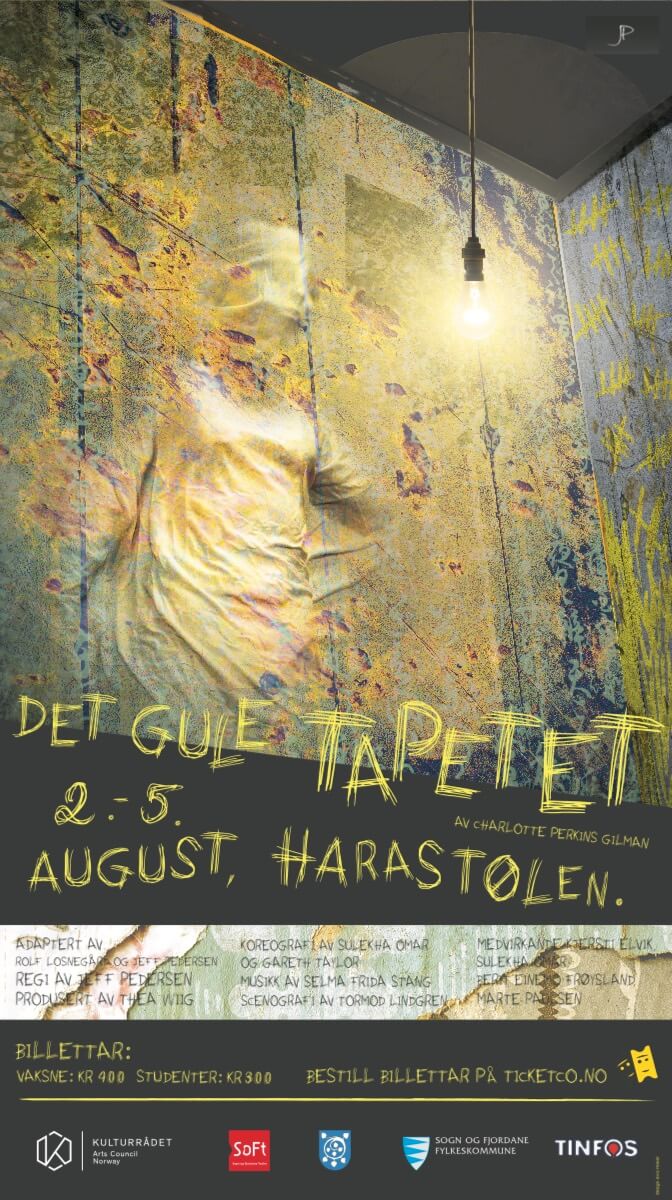 The Yellow Wallpaper (Det gule tapetet), a combination of modern dance and physical theatre, was first performed at Harastølen, an abandoned tuberculosis asylum on top of a mountain in Luster kommune. All ten performances were entirely sold out and the play was well received by the press and the audience.
We then performed as part of the Bergen Fringe Festival, and were selected by Bergens Tidene newspaper as one of the top five activities in Bergen during our visit. The Yellow Wallpaper is an intimate psychological horror centering on the damage caused by ignoring and isolating the vulnerable, and the dangers of uninformed good intentions. Originally written by Charlotte Perkins Gilman in 1892, it follows the story of a woman suffering from severe postnatal depression, before there was such a diagnosis – when it was just dismissed as female hysteria.
The Yellow Wallpaper had never been translated into Norwegian before. The play features an original soundtrack composed by Selma Stang, set, costume and video design by Tormod Lindgren, and lighting design by Marianne Thallaug Wedset.
---
Director: Jeff Pedersen
Written by: Charlotte Perkins Gilman
Adapted to the stage by: Rolf Losnegård and Jeff Pedersen
Producer: Thea Wiig
Choreographer: Sulekha Omar, Gareth Taylor
Composer: Selma Stang
Music Production: Odd Martin Skålnes
Set/Costume/Video Designer: Tormod Lindgren
Lighting Designer: Marianne Thallaug Wedset
Sound Designer: Håkon Holmås
Projection: Mads Faste Liang Nilsen
Sewing: Thale Kvam Olsen, Jørgen Opsahl
With Kjersti Elvik, Sulekha Omar, Berit Einemo Frøysland, Marte Paulsen, Anna Einemo Frøysland, Helga Farestveit
Det Gule tapetet is supported by Kulturrådet
Det Gule tapetet Promo from Johan Moen on Vimeo.